Waikato-grown teas are suddenly the talk of the international industry after Hamilton firm Zealong scored a triple win at the UK Tea Academy's annual awards.
Known as the "Leafies", the awards ceremony was held at Asia House in London.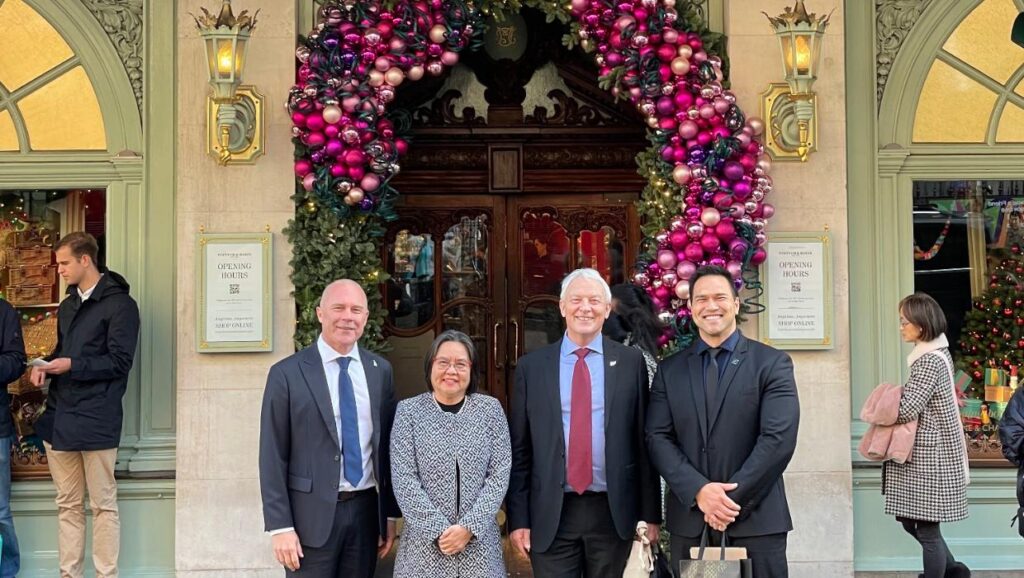 (photo: New Zealand-United Kingdom trade commissioner Joe Nelson, Zealong chief executive Gigi Crawford, New Zealand's High Commissioner in London Phil Goff and Zealong general manager Sen Kong celebrate the company's success with a visit to upper class department store Fortnum & Mason, which is now stocking the company's teas)
Zealong won a gold for its Aromatic Oolong flavour in the best heavily oxidised oolong tea category, and a highly commended award for its Aged Oolong.
But the night's big award was a "Lifetime Achievement Leafie" for Zealong itself, in recognition of the company's decades-long contribution to the advancement of tea knowledge and appreciation.
UK Tea industry specialist and Leafies judge Jane Pettigrew said the award was a rare and coveted prize.
"This amazing tea producer won the Lifetime Achievement Award for establishing the estate and for consistently producing exceptionally great tea that has put New Zealand on the map as a world class tea producer."
"Zealong is the first and only tea company in New Zealand to successfully nurture the tea bushes in this unusual location and to craft truly wonderful and delicious tea."
Zealong chief executive Gigi Crawford was delighted with the results.
"This is one of our major markets and the UK Tea Academy is a distinguished leader in tea. The Leafie awards are like the Rugby World cup of tea.
"It really is an endorsement of what we do and acknowledges over 25 years of hard work."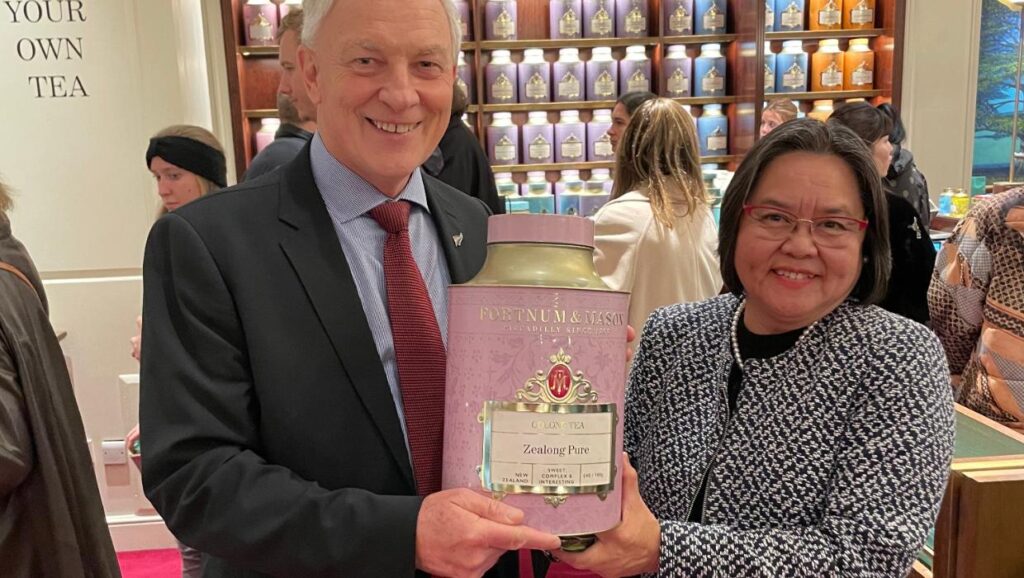 Phil Goff, New Zealand's High Commissioner to London, and Zealong chief executive Gigi Crawford with one of the specially-packaged - and award-winning - teas at Fortnum & Mason.
The success was also hailed by Phil Goff, New Zealand's High Commissioner in London, who praised the achievement on the social media platform formerly known as Twitter.
"New Zealand's Waikato region producing the best tea in the world," he wrote. "How good is that!"
Zealong is now being sold at numerous high-end retail and hospitality venues in the UK, including Harrods, Fortnum & Mason, Renaissance Hotels and Claridge's Hotel London.
The company last made international news in 2015, when Lady Camilla - now Queen Consort - gave a "thumbs up for Kiwi tea", having tasted Zealong's Green tea brand at an London restaurant.
More than 320 teas from around the world were entered in the Leafies this year. The teas were "blind tasted" and judged for dry and wet leaf, colour, brightness, aroma, flavour, "mouthfeel" and aftertaste.
All the winning teas were grown organically on Zealong's 48-hectare estate in Gordonton and processed at the company's tea factory.
Original source - Waikato Times