It all started with a camellia tree.
Flowering, lush and green, tea thrives in the Waikato. A lover of tea, Vincent was struck by the similarities between tea plants and the local camellias. The flourishing Waikato plants mean New Zealand is not just pure and clean, it is also the perfect environment to grow tea that excels in aroma and taste.
The Waikato climate has the ideal combination of abundant rainfall, sunshine, free-draining acidic soil and the right temperature for growing tea. The famous Hamilton fog also plays its part in ensuring that the plants enjoy the good level of moisture they need to thrive.
In 1996, 1,500 rigorously-selected tea cuttings were imported from the best tea growing regions in Asia. Following a long quarantine from New Zealand's Ministry of Agriculture, Vincent was left with only 130 plants. After careful propagation and a wealth of knowledge gained through the years, Zealong's lush tea plants add up to just over 1.2 million and are spread over 48 hectares of Certified Organic land.
It is hard to believe that the magnificent 48ha, certified organic Zealong Tea Estate was once a dairy farm.
Today, 1.2 million Camellia sinensis bushes are loving nurtured by our farm team, and the impressive tea rows provide a safe haven to an abundance of native birds and wildlife. The original dairy farmhouse is still there and is now our Teahouse.
COMBINING ANCIENT TECHNIQUES WITH NEW INNOVATIONS
Zealong are the pioneers of the New Zealand tea industry. Tea had never been grown successfully in New Zealand before so it was uncharted territory. Technology and expertise from around the world has been sought after to perfect production to maximise efficiency and optimise product quality.
Bespoke machinery, grading equipment, roasting, and packaging have adopted the best of ancient tea making traditions and combined it with new innovations.
A TEA MASTERS TOUCH WITH THE HIGHEST FOOD SAFETY
Our factory operates with the strictest food safety protocols and processing is entirely operated indoors, which is a world first.
From withering, to drying, rolling, and shaping, every aspect is tightly controlled to ensure that there is no possibility of contamination. Generations of Tea Masters bring their wealth of knowledge to craft bespoke tea, processed for consistency and quality. The factory currently produces up to 20 tonnes annually.
SETTING NEW STANDARDS IN QUALITY CONTROL
Our team of experts strive to ensure that production is top-quality with a no compromises approach through every stage of production from picking, processing, and packaging.
The result is a superb tea with fantastic taste and aroma that is completely traceable from farm to cup, is Certified Organic, and produced in state-of-the-art processing facilities.
"We know exactly what's in our tea and what isn't. No additives, no residues, and no heavy metals."
Zealong is "New Zealand Oolong"
The Zealong brand is the combination of "New Zealand" and "Oolong", which was the first tea that was ever perfected on our estate.
Oolong, a traditional semi-oxidised tea is characterised by the top three leaves that are tightly rolled into balls that unfurl after infusion.
Zealong's three leaf logo has become an iconic element in the Zealong brand and represents our premium, no compromise approach to growing tea in New Zealand.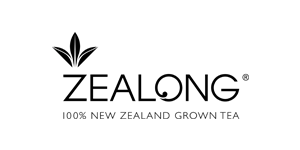 ORGANIC CERTIFIED NZ GROWN
Every detail of our tea is completely traceable, from soil to first sip, a unique status within the tea industry. Third party certification assures discerning tea drinkers that they can drink Zealong tea with a clear environmental conscience.
BioGro Organic BioGro is New Zealand's largest and best-known certifier for organic produce and products. Organic certifications include BioGro organic certification ( compliance to EU, USDA, and Japan), China and Japan.
THE FLAGSHIP ZEALONG RETAIL BOUTIQUE
Zealong brings tea direct from farm to cup with its award-winning Retail Shop encased by floor-to-ceiling glass windows allowing for an abundance of soothing natural light. This, together with the dulcet sound of classical music, makes for a relaxing shopping experience – a perfect setting for tea lovers searching for their favourite 100% certified organic tea, a beautifully packaged gift or souvenir by which to remember their Zealong experience.