Committed to establishing a sustainable business for future generations
Zealong Tea Estate aspires to minimise its impact on our environment and maximise the use of resources. The world is growing in its consciousness, of all things related to food and health and the health of our planet. As an organisation, we do things differently, and that includes all aspects of our food supply, including Tea.
Sustainability is a key focus for us, and we are proud to showcase some of our sustainability initiatives across economic, social and environmental aspects of Zealong's business.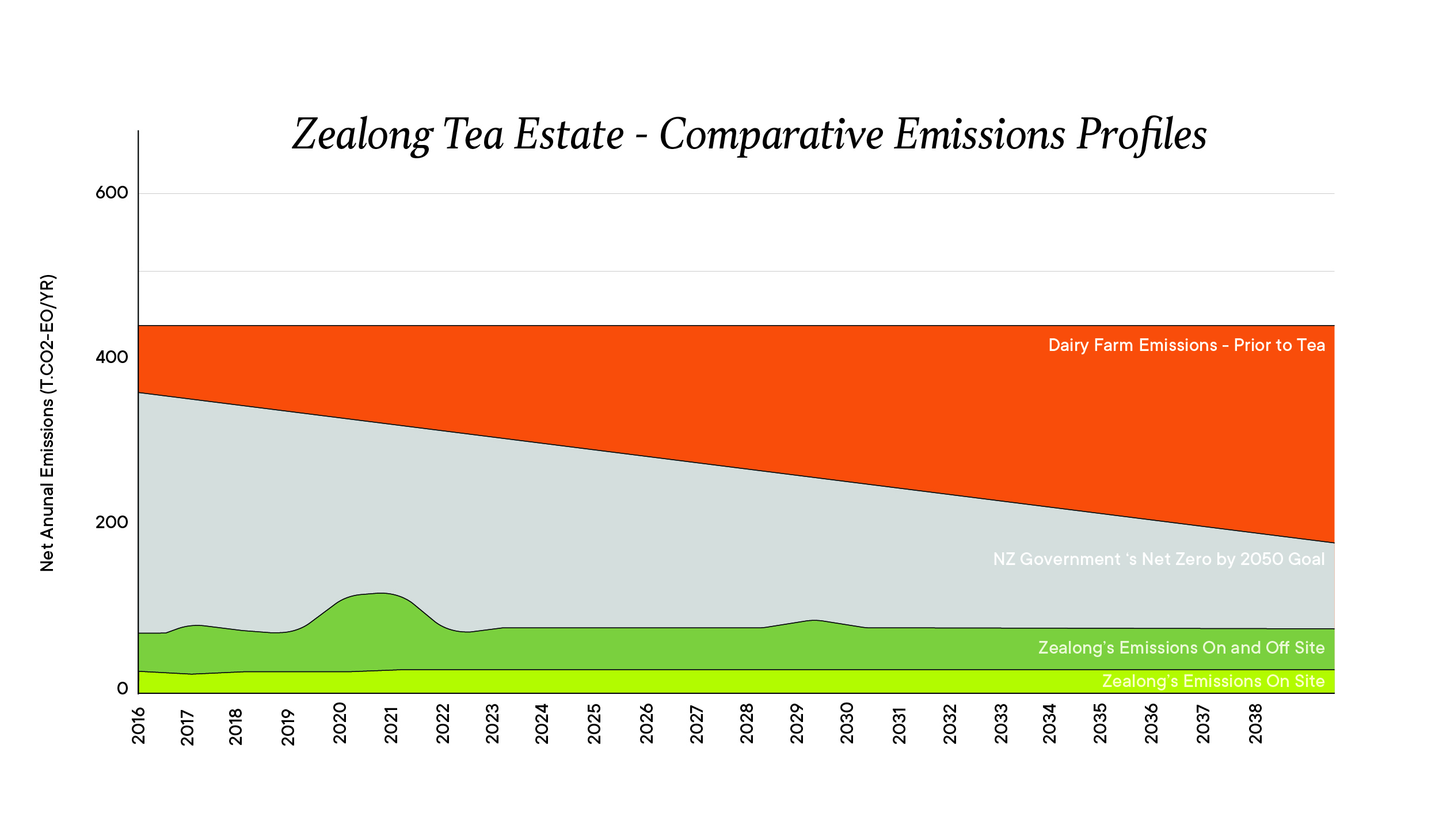 Setting new lows in Carbon Emissions
Beyond farming organically, Zealong Tea Estate understands that as a business, it is responsible for all its activities and the impacts it has on the environment. One of the key focuses across its sustainability initiatives is its carbon footprint.
Originally a mid-intensity Waikato Dairy farm at purchase, Zealong spent years working on the land to convert it successfully into an organic tea plantation.
As a natural product, we are proud to report Zealong Tea Estates emissions are well below the NZ Government target of 50% CO2-eq emissions reduction between 2016 to 2030 and Net Zero emissions by 2050.
CERTIFIED ORGANIC FARMING
Organic farming is a production system that sustains the health of soils, ecosystems, and people. It relies on ecological processes, biodiversity and cycles adapted to local conditions, rather than the use of inputs with adverse effects.
Organic farming combines tradition, innovation, and science to benefit the shared environment and promote fair relationships and good quality of life for all involved.
Zealong compostable tea bags use a woven mesh filter material derived from certified non-GMO sugar cane.
The biodegradable mesh can be decomposed rapidly when it is put into compost of organic material - industrial composting only, but quite slowly when it is used in brewing circumstances.
The degradation is initiated by temperature, moisture, and alkaline material like the environment of an industrial composting system.
The time required for teabag to collapse is approximately 5 ± 3 days when it is kept in an industrial compost approximately 3 ± 0.5 years in soil or water.
DEVELOPING NEW & COMPLIMENTING INDUSTRIES
Zealong is committed to working with local likeminded manufacturers. Over the years we have collaborated with several friends to create new and unique products, some of our favourites have been a Meyer Cheese Oolong Gouda and a tea infused amber ale with Good George. We are always keen to talk about crazy new ideas.
SOCIAL & COMMUNITY CONTRIBUTIONS
A commitment to living wage and supporting local is part of the way we do things here. We have been supporting local education facilities with internships and access to research projects. Many of our Teahouse staff are working with us while completing their tertiary education.