Edmond de Rothschild Heritage – Five Course Wine Pairing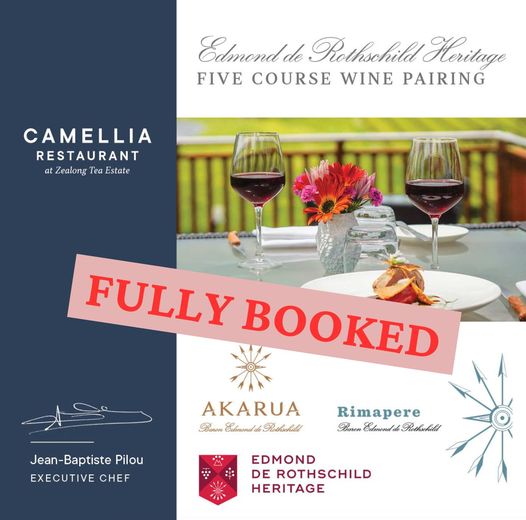 For one night only at Camellia Restaurant, savour five outstanding wines by Edmond de Rothschild Heritage, paired with five harmoniously crafted dinner courses.
Special presentation by Anne Escalle, General Manager of Edmond de Rothschild Heritage, who will describe the distinct qualities of each wine.
Saturday Night, 25th November
Reservations from 5:30pm – 8pm
$150pp – Five-course dinner & wine pairing
$105pp - Five-course dinner
Booking Essential
When booking, a $105 prepayment for dinner is required.
Wine pairs of $45 will be charged on the night.
Other drinks will also be available on the night.
An evening not to be missed, showcasing a stunning partnership between two French artisans in New Zealand - Camellia Restaurant's Executive Chef Jean-Baptiste Pilou, and esteemed winemaker Edmond de Rothschild Heritage, that have come together to craft an extraordinary gastronomic experience.
With a shared passion for France's culinary and viticultural traditions, they have embarked on a journey to create a five course menu that harmoniously marries the finest New Zealand ingredients with the elegance of French cuisine and wine.
For one evening they will present a memorable, one-of-a-kind meal, where every sip of the meticulously crafted wine complements each delectable bite of the exquisite dishes served. This collaboration promises to transport diners on a delightful gourmet adventure, celebrating the timeless artistry of French flavours and New Zealand's natural beauty. Prepare for a truly exceptional evening that transcends borders and captures the essence of two culinary worlds colliding in a symphony of taste and refinement.

Select your reservation time via our online system below:
When booking, prepayment for the five-course dinner is required ($105p/p), wine pairs will be charged on the night.
Terms and Conditions of Visit: