Zealong Tea Estate is located at 495 Gordonton road. Find your way with the map below
Use the map below to find your way around the estate, where to park, or simply explore the visitor attractions we have to offer.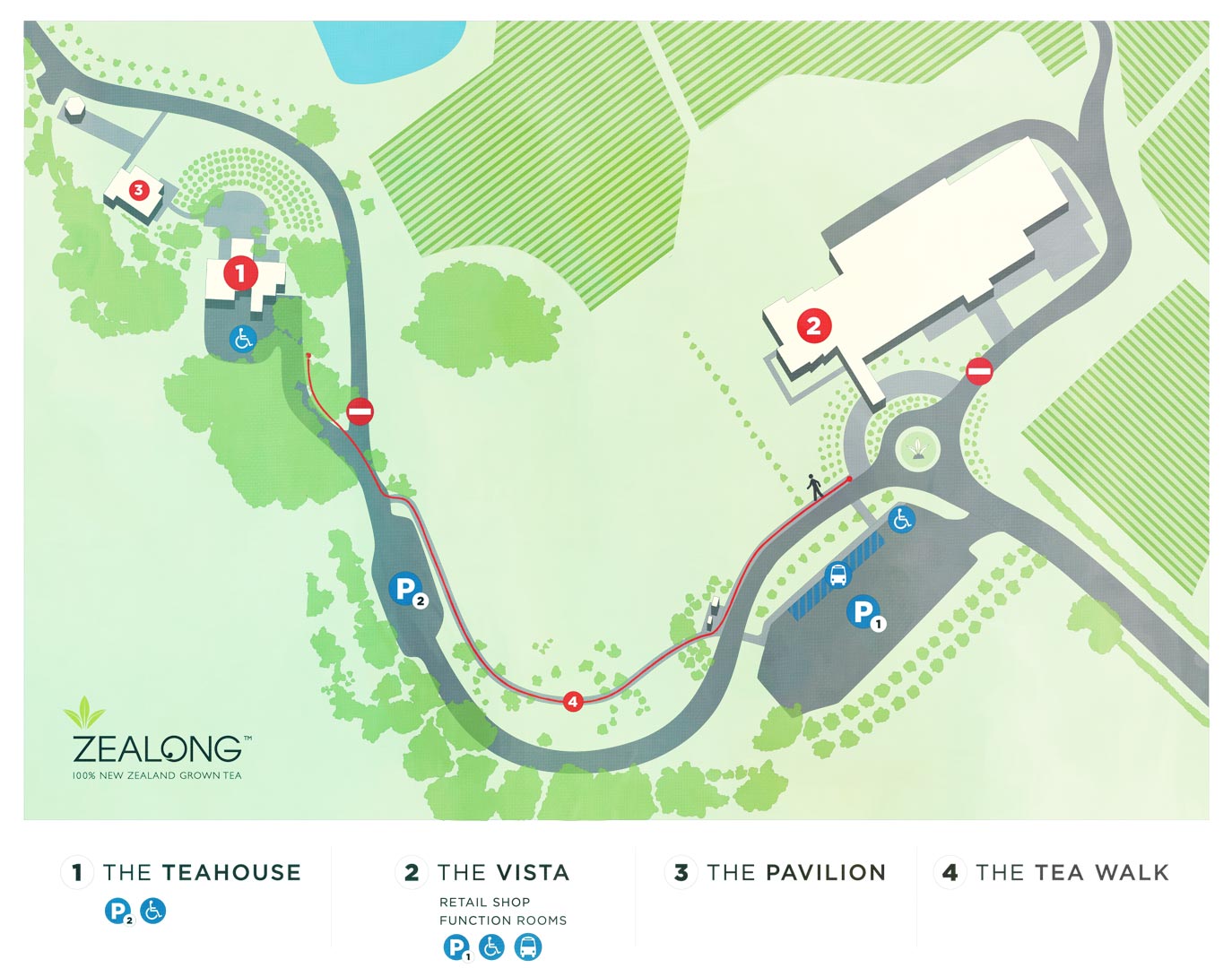 Tea House Terms and Conditions of Visit
BOOKINGS DURATION
To relieve some of the stress caused by high volume over weekends or holiday times, we respectfully ask that you progress from the dining area to the beautiful gardens and grounds after a period of two hours. This should allow ample time for a light lunch and will ensure that all our guests enjoy their Zealong experience to the maximum.
During these peak times, the minimum order value of $25 per guest may apply.
TABLE ALLOCATION
Tables are allocated on the day by the restaurant team and although we will do everything we can to allocate a table in your preferred area, we cannot always guarantee this.
DRESS CODE
Though the dress code in New Zealand is mostly relaxed and casual, the term "tasteful" is observed while dining at the Tea House Restaurant
ONE BILL PER TABLE
In order to facilitate a smooth transaction at the end of your meal, we do not encourage splitting the bill and politely suggest that you nominate one member of your party to take responsibility for the account. Visa, Mastercard and China Union Pay are accepted in the Tea House.
SMOKING/VAPING AND PET POLICY
No smoking or vaping is permitted at Zealong Tea Estate
With the exception of registered service dogs, we do not permit dogs at Zealong Tea Estate due to health and safety reasons.
FARM HAZARDS
Please take care when out and about on the Estate and do remember that this is a working farm. We have erected numerous signs to assist you to stay on the right pathways.
Accordingly, the following applies:
We reserve the right to charge a cancellation fee for any booking that is cancelled, or if numbers are reduced without prior notice.
For all bookings, you must notify us of a cancellation or any changes to the number of guests at least 24 hours prior to your booking.
The Tea House Restaurant reserves the right to charge a cancellation fee of $25 per person for any bookings changed or cancelled within this 24 hour notice period.
The cancellation fee reflects the cost incurred by The Tea House Restaurant's in terms of staffing, food, and any lost revenue as a result of turning away other potential bookings.
We will notify you if any cancellation fee is applied.
Any bookings which fail to turn up without any prior notice, will also incur a $25 per person fee.
Where possible, the team will actively manage restaurant bookings by checking attendance with the main guests/contact we have in our bookings diary.
If you need to cancel your reservation for any reason, please email "[email protected]" or phone 07 8533018